Loneliness in Lockdown
what the real tiger king and lighthouse ladies can teach us about social distancing
ROCK PAPER RADIO is a dispatch for misfits & unlikely optimists by your favorite hapa haole, beet-pickling, public radio nerd. It's a weekly email newsletter that shares three curiosities every Thursday - something to hold on to, something to read, and something to listen to. Themes include but are not be limited to: immortal jellyfish, rebel violinists, cake. Thanks for subscribing and spreading the word.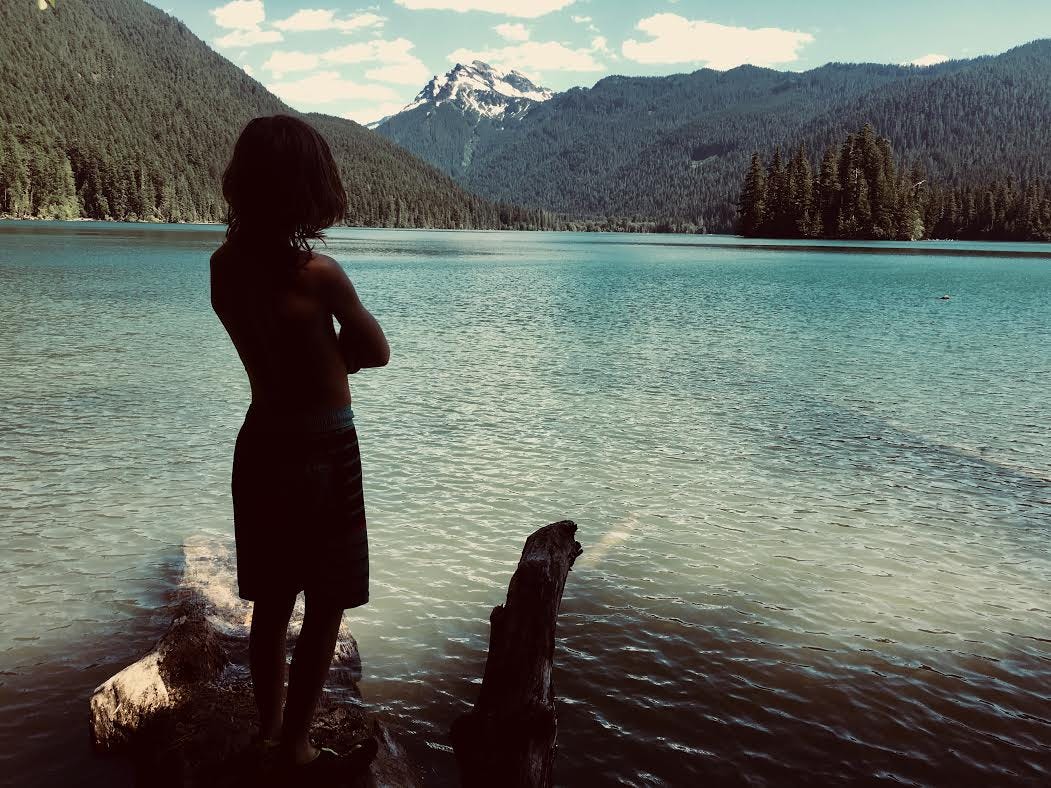 This young adventurer is looking over Packwood Lake in Washington. July 2020. For more #pnwonderland pics, find me on Instagram @leongstagram.
SOMETHING TO LISTEN TO
Although introverts may have rejoiced in the beginning weeks of Covid-19 lockdown, after five months without hugging friends or lingering in crowded restaurants, even the most reclusive among us are missing IRL connection these days.
In this 20-minute episode of KUOW's The Wild, host Chris Morgan travels to Russia to get a glimpse into the fascinating but lonely world of Siberian tiger tracking with award-winning filmmaker Sooyong Park.
Even for Park, who spends months alone in the woods "living in a freezing hole, watching for tigers that may never come," endless days of isolation are rough.
There's the most sadly beautiful Radio Moment about 15 minutes into the episode. Park tells us that after so long of being alone, when his assistant comes to bring him supplies every few months, he can't look him in the eyes for fear that it will break his resolve to stay.
Yes, this episode is about tigers. But it's also about connection, humility, and just how much humans can endure for art (or for the greater good during a pandemic).
SOMETHING TO READ
In honor of the one month anniversary of Ivanka telling us to "find something new" in the midst of an economic crisis* that has left millions of Americans without work, here is a story that ends with a rare job opening that would be the perfect fit for an independent girl boss who wants to break glass ceilings and also live in complete isolation by the sea.
In Natasha Frost's Meet the United States's Only Female Lighthouse Keeper, we are introduced not just to Sally Snowman who watches over the 244-year-old lighthouse called Boston Light, but we also meet a curious cast of female lighthouse overseers who came before her.
There's Rhode Island's Ida Lewis, who saved more than 18 wayward fishermen from drowning (she did not keep count), and who was on the cover of Harper's Weekly in 1869 for being a badass.
There's also Harriet Colfax who watched over Michigan City Light with her "assistant" Ann Hartwell. After four decades of lighthouse keeping together, they died three months apart from each other in 1905.
And then there's Mary Ryan, who did not love her lighthouse life and whose diary entires read like the defeated tweets of an office worker forced to return to her cubicle during a global pandemic:
April 7, 1874: So dull, this place it is killing me. Wind blowing violently.

Oct. 1, 1880: The news is that the light will soon go from me forever.

Nov. 1, 1880: This is all gloom and darkness.
The good news for "something new" seekers (but not for Sally Snowman who, unlike Mary, loves her seaside responsibilities), is that Snowman is now considering retirement after 17 years of watching over Boston Light. She will be overseeing the transfer of the lighthouse from the U.S. Coast Guard to its next guardian. Better add works well independently to your LinkedIn.
SOMETHING TO HOLD ON TO
Tahlequah, the orca whale who broke records and hearts all over the world two summers ago when she carried her dead calf for almost a thousand miles through the Salish Sea over the course of 17 devastating days, is pregnant again.
Grieving orca mothers are known to carry the bodies of their babies who don't survive for a day or two, but Tahlequah's mourning was unprecedented.
We're wishing her all the best.
THIRD TIME'S A CHARM
That's it for ROCK PAPER RADIO issue #3, friends. Thanks for listening/reading/holding on. And thanks too for subscribing and sharing. ROCK PAPER RADIO is new, so to all of you signing up and spreading the word in these early days, thank you! You are my misfit crew. If you liked this issue, please forward it to a friend or re-tweet this tweet.
See you next Thursday for NATIONAL RADIO DAY! 😃
K.
*According to the Bureau of Labor Statistics, 16.3 million Americans were unemployed last month, compared to 6.1 million a year ago in July 2019.